nPassword is designed to be the ultimate portable password manager (according to my view on the topic of course)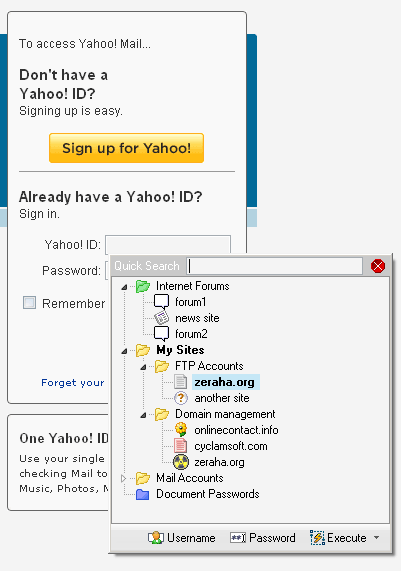 It is light, standalone, portable and more secure than most of it's competitors. The keyword is convenience and that's the area where nPasswords goes ahead. You can use customizable systemwide keyboard shortcuts, create macros, access your passwords quickly from any program with the QuickPassword popup feature (Win+X by default) and you can drag your data fields off nPassword into any windows program.
portability
- it remembers your settings in whole into it's own settings files and not windows registry
- it opens your last used databank automatically (optional)
- it uses relative paths
- it's not dependent on any other program. you can use QuickPassword feature and macros into any program.
It is safe to use nPassword from your USB drive or memory card.
If you know any other password manager complying with the above please notify me. I'd like to know.
security
- 256bit AES encription should be sufficient for anyone under normal circumstancens
- macros and direct shortcut actions of nPasword cannot be tracked by keyloggers
- clipboard hooking protection(must be enabled in options) prevents other programs from being notified when you copy datafields from nPassword to the windows clipboard
- password char spy protection (rather silly but many other password managers fail to do it)
some of the features
- fully remembers it's state
- high level of security through 256bit AES encryption
- can be carried conveniently on an USB Stick
- full featured export / import you can split and merge databases as you wish
- full featured tree database with folders, drag-drop, reordering etc.
- internal full text search engine (all words/any word/regexp/phrase) you won't believe how powerful this engine actually is
- dragable record fields. you can drag your password over firefox's field
- system wide hotkey support (check "Hotkeys" page in the settings dialog)
- quick password popup to be used from any program/browser through hotkeys
- password spy feature to read your old passwords from crappy programs
- password spy protection
- configurable password generator with "speakable" and "secure" modes
- secure direct filling (when using hotkeys)
- clipboard hook protection
- form filling macros
- persistent bookmarks organizer
——————————————————–
- session expire (under development)
- onscreen keyboard (under consideration)
Download Links:

Read Editor's Review about nPassword at softpedia.com it is the closest thing to program guide available.